September 7 - Pag-uwi galing sa field trip ng parish, may bumulaga sa akin...
Siyempre, si Hachi yung una kasi nandun pala siya nakatambay dahil umambon...
Bukod dun, ito pa...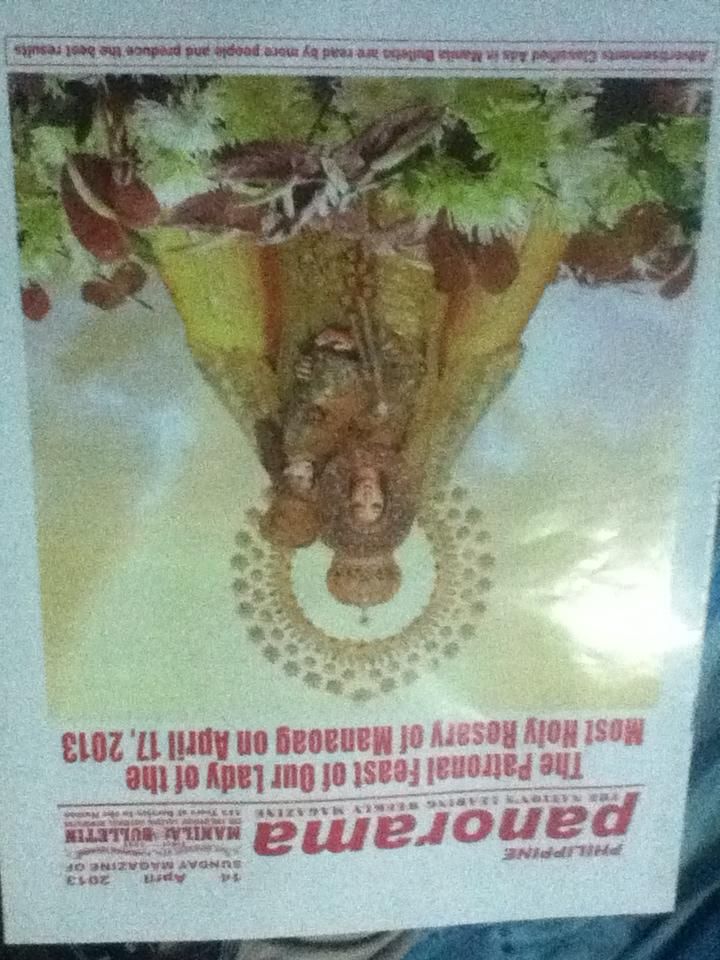 Akalain mo nga naman... Sakto galing kami sa Regina Rica.  At meron dung gigantic na image ng Our Lade of the Most Holy Rosary.  May karugtong nga lang na Rica.  Parang sa pacita, Our Lady of the Most Holy Rosary..... of Pacita.  Kasi ang feast ng our Ladey of the Most Holy Rosary - October 7.  Eh since may of Pacita sa dulo, 3rd Sunday ng October.  This year - 30th na niya.  1 year older lang sa akin... Yep, birthday ko sa 3rd Sunday ng October! Balak ko nga na birthday gift sa sarili ko, dun ako mag-silent retreat.  Kaso baka ma-weirduhan magulang ko sa akin... Hahahaha!!! Tapos saktong piesta pa sa pacita - kahit hindi naman kami naghahanda... :D
Inakyat namin yan, may magandang altar sa loob ng kanyang Mantle pero bawal mag-picture picture.
Yung painting sa left, mahal yan... Ang ganda ng stained glass na nakapalibot sa sa chapel na ito.  Mga mysteries ng rosary, tapos nandun din yung mga beads.  Parang ang each set ng mysteries nagcoconsist ng 6-decade mysteries - sarili ko lang na interpretation.  Kasi nabasa ko sa internet na 15-decade mysteries ang gamit ng mga dominicans.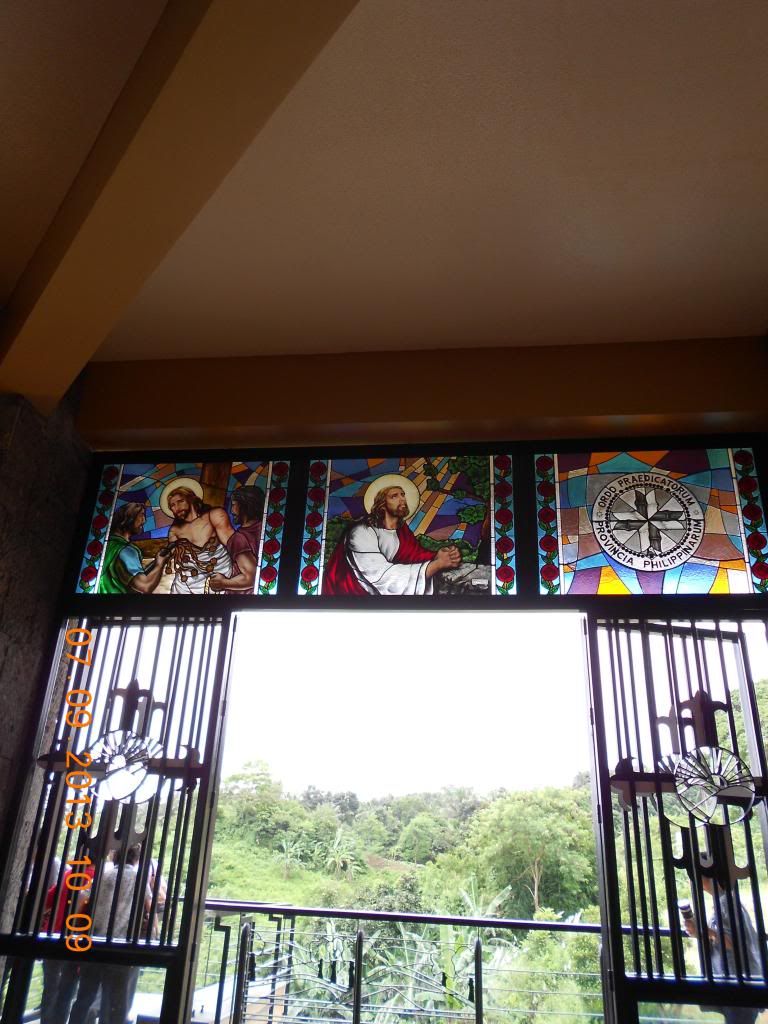 Sample lang yan kasi tinatamad na akong i-post lahat ng mysteries.
Nagblessing din ng rosaries kanina.  Sabi na kapag may dalang rosary ilabas.  So ako, sakto 2 dala ko.  Yung isang galing sa DLSU-M (kasi meron din ako from DLSC) at isang galing sa mga nSDP.  At habang nagpopost ako dito, bigla lang akong na-curious kung bakit 6 decades ang rosaryo na galing DLSU.  I had that rosary since 2001 and it is only now that I knew that the 6th mystery is in honor of the Immaculate Conception.  Coincidentally, yung pendant ng rosary na galing sa mga nSDP ay Immaculate Conception.  Bukod dun may grotto kami sa bahay... As in grotto...  Mas matanda sa akin ng isang taon...  May gustong ipahiwatig sa akin ang Divine providence...  Inaantok na ako para mag-reflect... Sa retreat na lang...  In silence... Akala ko, come what may na lang and go with the flow sa retreat... Baka may purpose...  Isa yun sa i-li-lift up ko kay God... Hehehe
Yan ang grotto sa bahay namin.  Yan pa lang yung upper portion.  May tuyong fishpond yan sa baba na ang dimension ay more or less 1x1 m.  Yung layo ng edge ng pic na yan sa edge ng fish pond ay around 1m din.  May guarding rail ang fishpond na yun.  At sa bandang right side, may hagdan paakyat mula baba papuntang imahen.  May little bridge din sa fishpond.  Maliit lang bahay namin... Mas mataas pa yang grotto sa bubong...
Na-release ng yung grades... Thank you Lord!!!!!!!